Motor oil is essential to an engine. It keeps vital engine parts lubricated, reducing heat buildup in the engine by diminishing the friction between parts, as well as helping clean deposits and other contaminants off of these. That is why your car oil levels are an important item to keep in mind daily.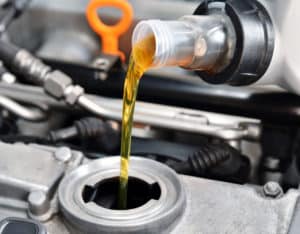 Since oil tends to lose viscosity over time its efficiency as a lubricant is also reduced, which is why it's important to follow a schedule for proper oil change maintenance.
Different engines need different amounts of oil. However, most engines need anywhere from 4 to 8 quarts of oil, depending on the size. The smaller the engine, the less oil it will require. Confirm how much oil your vehicle needs by referring to the owner's manual. USA Automotive can also help you with this needed information if needed. The proper viscosity of the engine oil is also very important, and the newer the vehicle the more important it becomes. The more you know about oil maintenance for your vehicle, the more likely you are to prevent related problems that could come up in the future.
TRUST USA AUTOMOTIVE WITH YOUR OIL CHANGES & MAINTENANCE
USA Automotive is the place to turn to in the Raleigh, NC area whenever it comes to oil maintenance issues.
Our team of expert technicians will take care of everything from routine oil changes to more complicated issues affecting the proper functioning of your vehicle. We'll make sure you're up and running in no time as if your vehicle had just left the factory!
Contact us today to schedule a visit and address any questions you may have regarding car oil maintenance and more.
If you're in need of auto repair in the Raleigh area, give us a call at (919) 249-5295, schedule an appointment online, or stop by today. We're excited to show you why USA Automotive remains drivers' first choice for all of their automotive needs.