As with any component of your vehicle, the exhaust system plays a very important role. The productivity and fuel efficiency of your vehicle depend on the system properly working. So does your safety and the safety of your passengers. A good exhaust system prevents noxious gases from entering the vehicle. It also reduces noise and prevents air pollution.
At USA Automotive, we have been doing exhaust and muffler repair since the 1st day we opened in 1986. One of the biggest problems that cause exhaust systems to fail is rust. As the underside of your vehicle is exposed to the outside elements, road debris and road salts, corrosion begins to occur. With rust comes a greater likelihood of cracked or broken parts that become exhaust leaks. In time, the exhaust system on your vehicle will need to be replaced. When you need to look for muffler shops in Raleigh, NC, turn to the experts at USA Automotive.
Signs of an Exhaust System Problem
Sometimes exhaust system problems are hard to ignore, like the loud sounds that may be coming from your muffler. Our shop in Raleigh, NC, is equipped to handle complete exhaust system repairs. As we maintain your vehicle, we will visually check the exhaust system and let you know if you need to repair any component of your exhaust system including your muffler. In Raleigh, you will find a number of muffler repair shops, but there is only one USA Automotive.
Here are some additional signs to look for that indicate a potential problem with your vehicle's exhaust system:
You smell fumes – This could be a dangerous situation for you and your passengers. You should have the exhaust system checked right away.
You hear hissing or popping noises coming from under the car or engine area.
You see extensive amounts of rust on the exhaust pipes and/or muffler.
You see the muffler or tailpipe hanging low under the vehicle.
Your car is louder than normal.
When it comes to your vehicle's exhaust system, trust your muffler repair in Raleigh, NC, to the certified technicians at USA Automotive.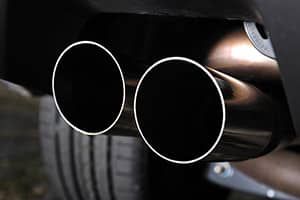 If you are looking for a custom exhaust system to increase sound and performance, we can do that too. We are known for being the "best" at custom pipe bending, dual exhaust systems, installation of Flowmaster mufflers, Magnaflow mufflers, stainless steel mufflers, glasspacks, Cherry Bomb mufflers, turbo mufflers, chrome tips, stainless steel tips, and 3" exhaust systems. We also have an outside lift capable of raising large vehicles including box vans, limos, RVs, school and church buses. If it is headers you want, we will install those too. Our expert exhaust technicians have the experience and knowledge you need to gain more power from your ride.
Contact USA Automotive's muffler shop in Raleigh, NC today to schedule an appointment.
If you're in need of auto repair in the Raleigh area, give us a call at (919) 249-5295, schedule an appointment online, or stop by today. We're excited to show you why USA Automotive remains drivers' first choice for all of their automotive needs.