Learn About Your Car
The serpentine belt is one of the most essential parts of your vehicle. When functioning properly, it drives power to important engine accessories, such as the alternator, air conditioning,  compressor, power steering pump, water pump, and air emission pump. A serpentine belt should ideally be replaced after approximately 60,000 miles. When it reaches this point or begins to fail, it can severely affect the functioning of the vehicle and even cause an immediate breakdown. 
At USA Automotive, our ASE-Certified technicians are equipped with all of the training, knowledge, and equipment necessary to offer serpentine belt replacement to Raleigh, NC vehicle owners. We offer a full service that takes all aspects of your vehicle into account because other components in the belt drive system may need attention as well.
A Service That Leaves Nothing Behind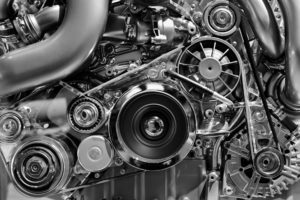 Even though serpentine belts usually come with a long-lasting operating life, some of them may need to be manually adjusted or have their self-tensioning mechanism serviced. 
At USA Automotive, we make sure to look at these and any other details that may need attention to ensure the proper functioning of your vehicle. We provide serpentine belt replacement to Raleigh, NC drivers, along with a full set of maintenance and repair services. 
With regards to the serpentine belt, there are several warning signs that vehicle owners should look for. These include belt slippage (squealing sound) and visible damage, like missing chunks of rubber, excessive cracking, or shredded appearance. 
In some cases, you may notice a noise when the V-ribs placed under the serpentine belt are too worn out, causing the belt to slip. Another more obvious sign of the need for replacement is your engine overheating or battery discharge, as the serpentine belt is responsible for driving the alternator at a proper speed and for the vehicle's water pump. Any damaged component will result in an almost immediate vehicle breakdown, which will require equally immediate attention from you. 
A good mechanic, such as the ones working at USA Automotive, will be able to solve these and other belt-related issues for you.  We also look at details such as the serpentine belt's routing because this critical component guarantees proper belt tension, as well as wear in the idler pulley and belt tensioner and smooth operation of all rotating components, such as the alternator, A/C compressor, and more.
Schedule Your Serpentine Belt Replacement With USA Automotive
As an independent garage providing service to the Triangle area, our goal is to not only offer an efficient serpentine belt replacement service to Raleigh, NC drivers but also to ensure that they can get back on the road as soon as possible. 
Our ASE-Certified technicians are equipped to look at every detail in your vehicle, giving it a proper diagnosis and solution, while creating and maintaining a maintenance schedule that is tailored to your vehicle and driving habits. 
Give us a call today at 919-249-5295 or use our online appointment request form to schedule a visit. We look forward to doing all that's necessary for your vehicle to continue functioning smoothly and safely.