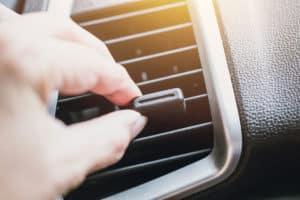 You jump into your car on a warm summer day, and the interior is hot so you turn your air conditioner up to cool it. However, after a couple of minutes, warm air is still blowing. When faced with air conditioning problems, stop by USA Automotive for a check-up and diagnosis.
The condenser in your air condition system is used to cool the hot compressed refrigerant to ambient temperature, taking in the air your vehicle is circulating to do so. However, when something interrupts this process, the refrigerant will still be hot when it travels through the expansion valve, which leaves your A/C inoperable, hence, blowing warm air.
HIGH QUALITY AIR CONDITIONING REPAIR
A blocked or broken condenser, or low refrigerant due to a leak or electrical problems could be the cause of common A/C issues. At USA Automotive we work with a team of highly trained and experienced technicians who thoroughly examine your car's air condition system in order to find the problem.
VISIT OUR SHOP FOR A THOROUGH CHECK-UP AND DIAGNOSIS
When faced with air conditioning problems, we encourage you to drop by our shop as soon as possible so that our team of automotive experts can determine the root cause of the problem. We work quickly to resolve any A/C issues you may have, offering you the best air conditioning repair right in the Raleigh, NC area.
Give us a call today at 919-249-5295 to schedule your next visit.
If you're in need of auto repair in the Raleigh area, give us a call at (919) 249-5295, schedule an appointment online, or stop by today. We're excited to show you why USA Automotive remains drivers' first choice for all of their automotive needs.