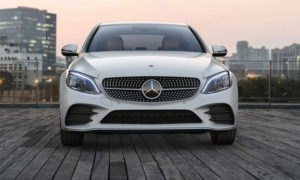 You've chosen to invest in a Mercedes Benz because you understand there's something special about them. These cars aren't only built to the highest standards of performance, safety and technology, but have become a dream come true for those who know how to recognize a top vehicle throughout the years. Therefore, it is only logical that you look for nothing less than a Mercedes expert when taking your car in for service or repairs.
Not only is driving a Mercedes an experience like no other, but taking care of its components and keeping it working properly to the top of its possibilities is a job meant for no one but the best. At USA Automotive we understand this and pride ourselves in being the top Mercedes experts that Raleigh, NC has to offer.
Working with factory approved parts and Mercedes diagnostic software, you can rest assured that your car is in the best possible hands.
Your Mercedes Dealership Alternative
Once you've driven a Mercedes Benz there's no coming back. At USA Automotive we are aware of just how valuable these cars are and therefore, know that as the owner of one you want to protect your investment as much as you can, being able to drive and enjoy it for a lifetime, which is just how long these vehicles are built to last.
Therefore, when it comes time to leave your car in for service or repair you want to be certain that they know just how to deal with it, which is why it becomes so important to find a Mercedes expert in Raleigh, NC.
At USA Automotive, we are the best dealership alternative for Mercedes Benz in the North Carolina area, working with ASE Certified technicians equipped with the knowledge and experience necessary to take care of your vehicle the way it deserves.
Each of our Mercedes experts understands these vehicles inside and out. From the oldest and most classical ones to the newest SUVs, we know exactly how to service your Benz.
Schedule Your Visit Today
Get in touch with us and come see for yourself why we are the top Mercedes experts in Raleigh, NC. Our Mercedes clients have trusted us for many years and they continue to do so because of our attention to detail, knowledge, expertise and top customer service.
Schedule your visit today so you can see for yourself!
We're proud to serve residents and commuters in the following zip codes of Raleigh 27616, 27609, 27615, 27612, 27603, & 27608
If you're in need of auto repair in the Raleigh area, give us a call at (919) 249-5295, schedule an appointment online, or stop by today. We're excited to show you why USA Automotive remains drivers' first choice for all of their automotive needs.