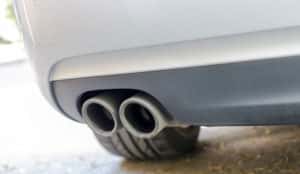 A car's exhaust system plays a major role in diverting fumes from the engine, something essential to keeping your vehicle running smoothly. When you need to repair or replace your muffler in Knightdale, NC, USA Automotive is the place to go.
As part of your vehicle's exhaust system, the muffler dampens engine noise and releases vehicle emissions into the environment, reverting the pressure and emissions produced in the combustion process and keeping them from entering your car's cabin.
By keeping your muffler working to its fullest potential, you'll be helping reduce harmful emissions from your exhaust system, protecting not only the environment but also your fellow passengers.
Signs That You Need To Repair Your Muffler
A few common signs you car is telling you fix my muffler in Knightdale, include:
If you've started hearing strange noises such as a low rumbling sound or anything other than the normal, smooth hum of the muffler

Constant vibrations coming from your vehicle can be sign you need to fix a muffler hole, a disconnected component, a broken exhaust hanger or an exhaust leak.

A drop in fuel mileage can be a telltale sign of exhaust issues, given that leaks in this area can make your motor work harder, meaning it will use more fuel in turn.
Often, you can tell when something out of the ordinary is happening to your car. Once you notice something unusual, it's to have the muffler inspected and serviced in case anything needs to be fixed.
Why It's Important To Repair Your Muffler
By having your muffler inspected and serviced you're protecting others (and the environment) from the harmful toxins created during your car's normal combustion process.
Our ASE Certified technicians have years of training and experience, enough to guarantee our customers the highest of care and attention when fixing their muffler, enhancing your vehicle's performance by monitoring the quality and condition of your exhaust system.
If not fixed, a faulty exhaust system can affect your car's gas mileage, experiencing an increased spending at the gas pump.
The industry leading 3 year / 36,000 mile warranty that comes with our service stands by the expertise of our team, giving you the confidence that your vehicle's in the right hands when needing repair or replacement of your muffler in Knightdale, NC.
Schedule an appointment with us today and don't wait any longer to replace or fix your muffler! Call us at (919) 249-5295 for a free quote.
We're proud to serve residents and commuters in Knightdale 27545
If you're in need of auto repair in the Raleigh area, give us a call at (919) 249-5295, schedule an appointment online, or stop by today. We're excited to show you why USA Automotive remains drivers' first choice for all of their automotive needs.