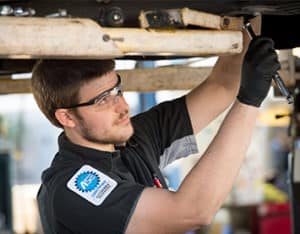 ASE is short for the National Institute for Automotive Service Excellence. Taking your vehicle to an ASE certified automotive shop in Knightdale, NC means putting your car into the right hands, guaranteeing high quality auto repair and services.
The ASE awards certifications to mechanics whose level of expertise exceeds the ordinary. At USA Automotive our team of professional technicians hold their ASE certifications proudly as a sign that by coming to them, you'll receive nothing but excellence in vehicle repair and service.
There are up to 1,500 automotive repair shops working with ASE certified mechanics in the US, and USA Automotive is one of them. This means our customers can be certain their vehicles are being revised by knowledgeable professionals with high levels of expertise.
Why You Should Choose An Ase Certified Car Repair In Knightdale
Choosing an ASE certified car repair technician in Knightdale means the investment you've made on your vehicle is being properly taken care of.
To earn their certification, ASE certified technicians must give evidence of at least two years of experience and go through a series of tests in which topics such as engine repair, automatic transmissions, manual drive trains, electrical systems, engine performance, brakes and suspension system, amongst others, are observed.
For a mechanic to maintain their certification, they must take a test every five years, meaning staying up to date on the latest technology and developments is a necessity. As for you, getting an experienced mechanic to care for your vehicle increases your road safety while saving you money on the long run.
As a vehicle owner you definitely want to get as much life out of your vehicle as possible, meaning you need good maintenance work to be done in order to guarantee so, which is precisely why you should only trust an ASE certified team of mechanics as a guarantee you're getting the best repair work and maintenance done.
As an ASE certified automotive shop in the Knightdale area you can rest assured we are qualified to solve any problems your vehicle is facing in a fast and secure way, overall giving you a greater return of investment and the tranquility of trusting someone who knows precisely what they're doing.
Contact us today to schedule a visit or find out more about the services we offer.
We're proud to serve residents and commuters in Knightdale 27545
If you're in need of auto repair in the Raleigh area, give us a call at (919) 249-5295, schedule an appointment online, or stop by today. We're excited to show you why USA Automotive remains drivers' first choice for all of their automotive needs.