Learn About Your Car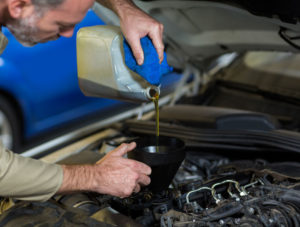 Though it may not be obvious when your vehicle needs an oil change, this is actually one of the most important maintenance services and also the one that is most often overlooked. However, if your engine runs low or out of lubricant, this will cause friction which leads to damaged parts inside your engine. Repairing or rebuilding an engine will be much more expensive than an oil change. 
Don't let a quick and easy maintenance service become a major repair. Follow your vehicle's maintenance schedule and make sure to visit USA Automotive for an oil change near Knightdale, NC. 
Visit The Oil Change Specialists
Our ASE Certified team of technicians are here to provide the best possible service. When coming to us for an oil change in Knightdale, NC, you'll receive personalized, expert service and we evaluate your vehicle and individual driving style to let you know which oil is best for your engine and how often it should be changed. 
With more than 34 years of experience in the field, clients prefer us because of our personalized attention, excellent customer service and affordable prices and our Guarantee. 
When providing your vehicle with an oil change, our team takes all details into consideration. From the grade of oil being used, the amount and type of driving being done, and the age and specifications of your vehicle, we will ensure that you get the best possible oil change service. 
Our customer's safety is our number one priority. We do our best to keep your vehicle up to date with regularly scheduled oil changes, along with any other maintenance services that may be necessary, to help you extend the life of your engine and keep your car running as smoothly as possible. 
Schedule Your Appointment Today
Don't leave this important matter at the bottom of your to-do list! Give us a call today, or schedule your appointment online to ensure an expert oil change in Knightdale, NC. 
We will be happy to be of service to keep you and your vehicle safe and on the road.