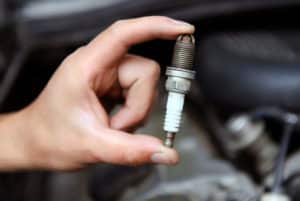 Spark plugs are an essential part of your vehicle being responsible for running your car engine. These plugs provides the spark of electricity needed to ignite the combustion that gets your car started. When they're damaged, worn or broken, USA Automotive offers spark plug replacement that vehicle owners in Knightdale, NC can enjoy.
Although spark plugs don't require replacement very often, most auto manufacturers recommend they be replaced approximately every 30,000 – 60,000 miles.
Since spark plugs endure the most extreme temperatures and conditions, they can experience deposit buildup from interacting with the air-fuel mixture which leads to an unreliable supply energy. As these pieces age, the gap through which their ignition is meant to travel to provide the right level of combustion widens. If it happens to be too far apart then combustion will be inefficient.
At USA Automotive, our team of ASE Certified Technicians offer spark plug replacement near Knightdale, NC, guaranteeing the best possible service close to you.
Signs your spark plug needs replacement
There are a few telltale signs that your spark plugs have started to fail and are in need of replacement. Be aware of your vehicle and bring it straight to us if you've noticed any of these signs:
     Rattling, pinging or "knock" like noises coming from the engine.

     Hard vehicle start.

     Reduced cruising performance.

     Waste of fuel.
Good, functioning spark plugs are vital to keep your vehicle working at 100 percent. Bring it straight to our shop so you can have it inspected once symptoms such as these start appearing.  The sooner you bring your car to us, the sooner we can have it fixed and reduce safety risks, waste of fuel and provide a better driving experience.
Contact us today
Brand new spark plugs will help your vehicle drive with a fully functioning combustion system. By improving your vehicle's performance, fuel economy, and providing less harmful emissions, you'll enjoy a smooth and energetic start.
USA Automotive's team of expert, ASE Certified technicians are more than qualified to offer the best spark plug replacement service that residents in Knightdale, NC can enjoy. Call us today to schedule an appointment and have your car running its best in no time.
If you're in need of auto repair in the Raleigh area, give us a call at (919) 249-5295, schedule an appointment online, or stop by today. We're excited to show you why USA Automotive remains drivers' first choice for all of their automotive needs.