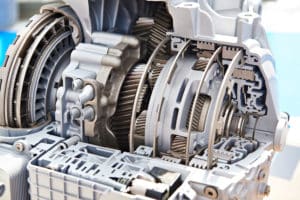 When it comes to your vehicle's transmission, don't leave anything to chance. This complex system of gears is responsible of delivering power to your engine, so once it starts to fail you should take care of it immediately. For transmission repair and replacement in Knightdale, NC, USA Automotive is the place to go.
Professional Transmission Repair: For Experts Only
Your vehicle's transmission repair is a job that should only be handled by qualified technicians, capable of performing the most effective vehicle maintenance and transmission services. We will replace or fix your transmission right the first time.
At USA Automotive, our ASE certified technicians are fully prepared to take care of any transmission repair or transmission replacement jobs in Knightdale, NC.
If you're noticing that your vehicle is taking longer than usual to accelerate, it may be a sign your transmission is starting to fail. In this case, better not wait until it's too late. Many other automotive repair shops are not equipped with the technology or tools or simply lack a highly qualified staff to properly repair a transmission.
At USA Automotive, our team of auto experts is able to pinpoint issues with the use of the latest technology. Our experienced specialists can be trusted to monitor your vehicle's transmission and keep you ahead of any repairs that may come up.
We take care of every important detail, such as using the correct fluid and providing an accurate diagnosis that saves you time and money.
Schedule Your Transmission Repair In Knightdale, NC
If you've started noticing your transmission malfunctioning, contact USA Automotive immediately to schedule a time to bring your vehicle into our shop. Transmissions that slip out of gear or fail to accelerate properly can directly impact your safety on the road and leave you more prone to accidents. Delaying service or trying to take care of the problem on your own can be dangerous and can make the damage even worse. Take it to the experts and we will replace or fix transmission problems.
Our 3 years / 36,000 miles warranty acts as a backup of our great work. Bring your vehicle to us and drive away knowing the transmission fix has been done perfectly.
Give us a call at 919-249-5295 to schedule an appointment with our experts today.
We're proud to serve residents and commuters in Knightdale 27545
If you're in need of auto repair in the Raleigh area, give us a call at (919) 249-5295, schedule an appointment online, or stop by today. We're excited to show you why USA Automotive remains drivers' first choice for all of their automotive needs.