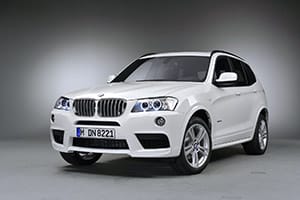 BMW Repair You Can Trust
The BMW has long been our finest example of a luxury driving experience, and more customers trust us as the go-to experts when it comes to BMW repair in Raleigh, NC.
We have all of the tools, equipment and the expertise of skilled BMW technicians who know the inner workings of every make and model of BMW. So, whether you're up for an oil change or something more serious, you can rest easy knowing that our team of professionals will have you and your BMW back on the road in no time.
An Engine Built Like No Other
Bimmer enthusiasts enjoy the BMW's powerful engine performance, speed, comfort, and precision handling. Therefore, it only makes sense that such a high-end European vehicle be handled only by professionals who understand the unique service needs of the BMW.
Consider, for a moment, BMW's reputation – one that is built on superior engineering and manufacturing. Most BMW drivers drive off of the dealer's lot with a beautiful vehicle but no dedicated mechanic to help them maintain it. That's why we're here!
At USA Automotive, our team of highly-skilled BMW technicians are specially trained to meet all of your BMW's needs. Let us help you design a maintenance plan that will preserve your engine and enhance your BMW's overall performance. Give us a call today at (919) 249-5295 to learn more.
Professional BMW Maintenance in the 27604 Area
Unlike auto dealerships, at USA Automotive, you're not just another number. We use the highest standards when performing timely BMW maintenance. When designing your unique maintenance schedule, we take into consideration:
The age of your vehicle
Your driving habits
The manufacturer's recommendations
As part of your vehicle's maintenance, quality synthetic oil change service intervals are also conducted to make sure oil filters are changed, all fluids are checked, and tires, brakes, belts, and hoses are inspected.
Quality BMW Repairs–Computer Diagnostics
Even the most diligent maintenance plan for your BMW can run into a repair need. A BMW's high-end auto services should never fall into inexperienced hands. It takes a specialist to perform your BMW's minor and major repairs.
At USA Automotive, we approach all of your BMW repairs with the same commitment to excellence. We understand the unique mechanical, electrical, and engine repairs that your BMW requires.
Enhance your stopping power with expert braking system repairs, suspension and steering repairs and quality tire services. Your ultimate driving experience is maintained by our superior European engine repair services. Our team uses the most accurate computer diagnostic equipment for all engine repairs & replacements. Trust your transmission services, repairs and replacements to the BMW specialists. From bumper to bumper, USA Automotive has you covered. We're the Triangle's best alternative to the dealers for all of your BMW services.
Schedule Your BMW Repairs Today!
Bringing your BMW to USA Automotive is like bringing it home because we treat it like it was our own. For your convenience, you can schedule your appointment right now! All you have to do is click over to our online scheduling system and pick a day and time that works best for you.
Alternately, give our BMW specialists a call today at 919-249-5295, and get your BMW on the specialized maintenance service plan it deserves!
We Offer the Following BMW Maintenance & Repairs:
Air Conditioning Service & Repair
Computer Diagnostics
Electrical System Diagnosis & Repair
Engine Performance Check
Factory-Recommended Maintenance( 30K, 60K, 90K & 120K + )
NC State Inspections
Pre-Purchase Inspections
Suspension & Steering Repair
Tune-Ups
Cooling System Service & Repair
Emission Repair Facility
Engine Repair & Replacement
Muffler & Exhaust System Repair and Replacement
Oil Changes
Shock & Strut Replacement
Transmission Service, Repair & Replacement
Wheel Alignment & Tire Rotation