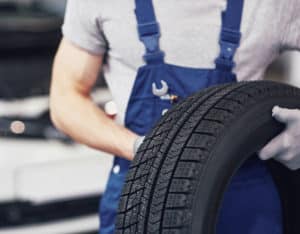 Tires are responsible for letting your vehicle run smoothly wherever you go. Proper tire maintenance matters not just as a safety measure, but also to ensure that your vehicle obtains the maximum mileage out of any set of tires. Regular tire service is the best way to guarantee you get the most life out of any set.
Regular tire rotations allow distribution of wear more evenly, whereas improperly inflated tires will result in lower fuel economy and turn your vehicle into a major safety risk since traction is reduced and stopping distances are increased.
If you notice any signs of a flat tire such as sudden loss of tire pressure, vibrations while driving, poor traction and/or punctures, snags or cuts in your tire tread or sidewall, then you need to go to USA Automotive to have this problem evaluated.
Visit us today and discover how our trusted team of ASE Certified Technicians can work for you. We offer the best tire services and replacement that Knightdale, NC residents will find in their area.
Trust the experts at USA Automotive
Any time your vehicle is in need of tire services and replacement in Knightdale, NC, call USA Automotive directly. Our technicians will handle everything from rotation to repair and patching, balancing and mounting, and anything else that guarantees your vehicle will continue driving safely and smoothly along the road.
Regardless of size, make, and model, or whether your vehicle was imported or made in America, all vehicles need their tires functioning at top capacity.
If your tires are blown out, have experienced sidewall damage, don't have enough thread left or are simply unsaveable, our team of expert ASE Certified Technicians can take care of it. At USA Automotive we are home to the 3-year/36,000 mile warranty, guaranteeing our work for both parts and labor. One more reason to trust us!
Contact us today
Contact USA Automotive today to schedule a check-up, or visit us directly at our location to get the best possible tire services and replacement in the area.
We're proud to serve residents and commuters in Knightdale 27545
If you're in need of auto repair in the Raleigh area, give us a call at (919) 249-5295, schedule an appointment online, or stop by today. We're excited to show you why USA Automotive remains drivers' first choice for all of their automotive needs.