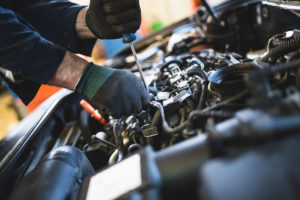 When looking for an expert, professional automotive shop in Knightdale, NC, the search starts and ends at USA Automotive.
For over 30 years, our top quality repair and services are what keep our customers coming back. We provide you with exclusive offers and coupons, a 6 month financing schedule with no interest, and our unique 3 years/36,000 miles warranty on repairs.
By coming to us first, we make sure to save you both time and money, since we handle all of the repairs at once without needing you to come back twice!
Customers feel safe having a team that works with them, complete with extensive automotive knowledge, personalized care and attention, and fair pricing. For your best car service provider, our expert, professional automotive shop near Knightdale, NC can't be beat.
Service That Stands Out On It's Own
From the moment you give us a call to schedule your appointment to when you drive away in your vehicle, we promise to provide an exceptional service that we can stand behind.
As a locally and independently owned shop, we are committed to providing you with the type of great service you expect from an expert, professional automotive shop in Knightdale, NC.
Forget about the impersonal and overpriced treatments you're used to getting from dealerships and lube centers, because at USA Automotive we pride ourselves in our personalized service. We get to know you and your vehicle, adhere to manufacturer's recommendations and design a personalized maintenance schedule that takes into consideration both your vehicle's age and your driving habits.  
With us by your side you won't ever have to worry about the risks of costly repairs and breakdowns. Anything from the smallest issue to the most complicated ones can be expertly handled by our staff.
We'll Be Waiting On Your Call!
Reach out to us and tell us all of your concerns and questions regarding your vehicle. You can trust our expert repair technicians to have all of the answers at hand, providing an accurate diagnosis and the solutions you deserve.
Feel free to give us a call or use our online scheduling system to make yourself an appointment right now!
Our Auto Services in Knightdale, NC Include:
Vehicle maintenance such as 30k, 60k, 90k, and 120k mile service
Complete computer-control emission specialist
Custom performance dual exhaust systems
We're proud to serve residents and commuters in Knightdale 27545
If you're in need of auto repair in the Raleigh area, give us a call at (919) 249-5295, schedule an appointment online, or stop by today. We're excited to show you why USA Automotive remains drivers' first choice for all of their automotive needs.