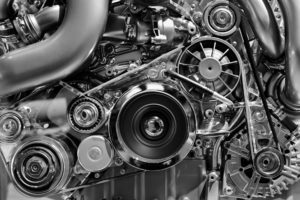 There are several important systems in your car that depend on a properly working serpentine belt (or drive belt). Systems such as your air conditioning, alternator, water pump or power steering, depend on this belt to keep components moving and avoid metal on metal collisions or damages. Be sure to go to the experts at USA Automotive asap when needing a serpentine belt replacement in Knightdale, NC. It may be possible to fix your serpentine belt, but it is often cheaper to replace it.
Even if your car isn't showing any signs yet, it's always recommended that you ask your technician to check it after 5 years of ownership, 5 years after it's last change, or if you're car has been running over 50,000 miles with the same serpentine belt.  
Immediate Signs Your Serpentine Belt Needs Replacement
There are several obvious signs that indicate it's time to replace or fix your serpentine belt. Whenever one of them shows up, do not ignore it, schedule a visit to our shop as soon as possible. It is more cost effective to replace your serpentine belt now than fix other part of your car later.
A highly pitched noise coming from the serpentine belt means you need to get your car inspected immediately. Look under the hood of your car and consider whether you've recently driven through rain, since water on the belt can make a similar sound, but is harmless. However, if you notice leaking or spilled oil or fluids, it can be a sign that it needs a full replacement soon.

Serpentine belts will not likely start and stop working, but will show signs of wear and tear over time. A ribbed belt will show some of the ribs missing in chunks. You may also notice the belt is wearing unevenly under the hood which indicates a potential issue with the pulley.

Some belts will also fray on the outer edges, this is a sign it should be replaced. It is not worth trying to fix a frayed belt.
Regular check ups and routine maintenance of your car will ensure everything is left running smoothly and catch all warning signs before they turn into real issues that may cost thousands to fix.
Don't Avoid The Warning Signs
Not replacing your serpentine belt on time can lead to major malfunctions in the engine that will affect your car's performance and cause the water pump to stop circulating coolant. This will lead to a higher running temperature and bad engine performance. In regards to your alternator, this important electrical part won't be able to supply enough electricity. This will lead to a shorter battery life and the air conditioning compressor to not turn as fast should. It will need to be fixed to cool the interior of your car as it should.
If your serpentine belt breaks, none of the following accessories will work: steering will get very difficult, the a/c will only blow warm air, and your vehicle will only run until the stored power of its battery is all used up. If it your belt isn't replaced everything will eventually cease to function until the problem is fixed.
A serpentine belt replacement isn't something you want to hold off on.
Have you thought "Should see if I need to replace or fix my serpentine belt?" Avoid these worst case scenarios by going straight to the certified technicians at USA Automotive to get a new serpentine belt. Schedule your visit now or give us a call to learn more about our services and working standards. We can replace your serpentine belt as well as check for other problems you may need to fix. 
We're proud to serve residents and commuters in Knightdale 27545
If you're in need of auto repair in the Raleigh area, give us a call at (919) 249-5295, schedule an appointment online, or stop by today. We're excited to show you why USA Automotive remains drivers' first choice for all of their automotive needs.