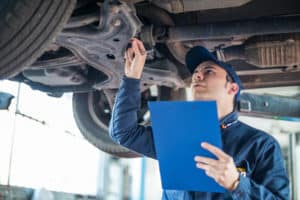 When you're ready to seal the deal on a new vehicle, you want to make sure you're getting your money's worth and that everything is running as smoothly as it should be. At USA Automotive, we offer a pre-purchase car inspection service near Knightdale, NC. Know exactly what you're getting before making any final decisions.
After taking the time to inspect the market and finally finding the perfect used vehicle you were looking for, it's important that before settling anything, you're confident that what you're seeing is exactly what you're getting.
A pre-purchase car inspection thoroughly examines all of the car's components to provide you with a full on look at everything that is going on with the vehicle so that you can make a more informed purchase decision you won't regret.
What To Look For in A Pre-Purchase Car Inspection
By getting a pre-purchase car inspection, Knightdale, NC customers know exactly where their investment is going. The purpose of this inspection is to thoroughly look under the hood and all around the vehicle's body to  identify any weak spots and give you a neutral parties examination of the business deal you're about to seal.
Some of the things you'll want our technicians to go through are:
     

Dash warning light inspection and bulb check

     

Computer system readiness monitor check

     

Electrical system components

     

Suspension components

     

Exterior lights

     

Radiator

and cooling system

     

Battery

and charging system

     

Belts, Hoses, Fluids, Wiper operation

     

Air Condition

and Heating system

     Muffler Repair &

Exhaust System
Getting Your Money's Worth
With a pre-purchase car inspection, customers in Knightdale, NC will have a certified third party examination of the vehicle in detail before purchase. This allows customers to renegotiate the deal if necessary and assess and anticipate any future needs of maintenance.
Schedule your visit to USA Automotive and let us to take a look at your vehicle so you can make an informed decision that you won't regret.
We're proud to serve residents and commuters in Knightdale 27545
If you're in need of auto repair in the Raleigh area, give us a call at (919) 249-5295, schedule an appointment online, or stop by today. We're excited to show you why USA Automotive remains drivers' first choice for all of their automotive needs.